Archive for the 'Equality' Category
Article from the Broward New Times by  Lisa Rab
Interview With a Tree-Sitter, Protesting Scripps Biotech Center
Rachel Kijewski has spent the last four days camped out 30 feet above ground, in the branches of a cluster of pine trees off I-95 in Palm Beach Gardens.
She and other members of the environmental group Everglades Earth First are protesting a plan to build a Scripps Research Institute biotech center, offices, and houses on 680 acres of vacant land. The group says it wants to preserve one of the last large tracts of forest in the area, and protect threatened species such as wild pine, royal fern, and ground lichens.
The Palm Beach Gardens City Commission approved the Scripps plan last spring, but Kijewski,25, and other activists are willing to go to great lengths to stop the bulldozers. They derailed a similar Scripps proposal in western Palm Beach County five years ago, and Scripps eventually opened a center in Jupiter instead. The Gardens project would be the second phase of the center's development.
Kijewski and fellow protester Russel McSpadden have been camped out in the trees since Monday. The Juice asked Kijewksi how she's faring.
What's it been like up there?
It's absolutely beautiful gazing into the forest.
Have you slept? Eaten?
Sleeping, eating, pooping — you name it, we're doing it in the trees. We have hammocks for sleeping, we have a good food supply [fruits, dried goods, canned goods]. We have sort of a tree-sitters port-a-potty in regards to the important daily needs.
Have you gotten any positive response from cars or people passing by?
A good amount of honks, even at night.
Why did you volunteer for this?
I'm absolutely in love with slash pines and this particular type of forest.I enjoy climbing trees. This is one of the most direct ways I can put my skills to use.
How long will you be up there?
Not sure exactly. I'd like to stay up here until we get this forest actually saved. That's my goal, but we'll see what happens.
Everglades Earth First! activists Russ McSpadden and Rachel Kijewski took the issue of endangered species protection to new heights today! They are suspended 30 feet up in the air to protest the plans for development of the "FAU/Scripps Bio-tech City" on the Briger Forest Tract- the last living forest in Palm Beach County.
Law Enforcement with the Florida Department of Transportation and City of Palm Beach Gardens have promised to arrest the tree-sitters if they do not leave the sit. Both Russ and Rachel are holding tight!
A joint statement from the tree-sitters states, "As FAU graduates and Palm Beach County residents we are dismayed at the lack of protection for the Endangered Species on the FAU/Scripps development site. The Scripps "bio-tech city" plan promotes sprawl and will destroy endangered species located on the Briger Forest Tract. We have tried legal means to protect the site, but the developers and politicians have ignored our concerns. If the state and county refuse to protect endangered species then we must take action to preserve the remaining natural beauty of Florida."
In conjunction with the tree sit, forty protesters converged at the existing FAU/Scripps Florida where Jupiter and FAU campus police briefly detained at least one person.
This will just be the first direct action of many to preserve the Briger Forest and the endangered species that depend on it. Everglades Earth First! activists plan to maintain a presence on the site to ensure no endangered species habitat is destroyed, and no animals are abused in the proposed vivisection labs.
Hoo-ray for Russ and Rachel! Stay tuned for more updates!
DONATE – to help us support the tree-sitters with future bail and legal costs! Donations can be made via Paypal to "lynnejpurvis@gmail.com"
HELP THE TREE-SIT – We will have an on-going vigil to ensure the safety of these brave activists. We can be reached by email or calling 561-249-2071
FOR MORE INFO on Scripps and the Briger Tract Forest check out Palm Beach Environmental Coalition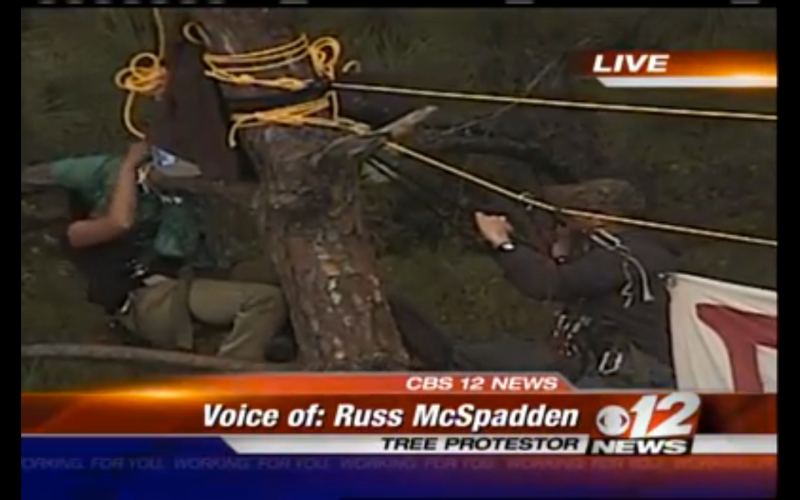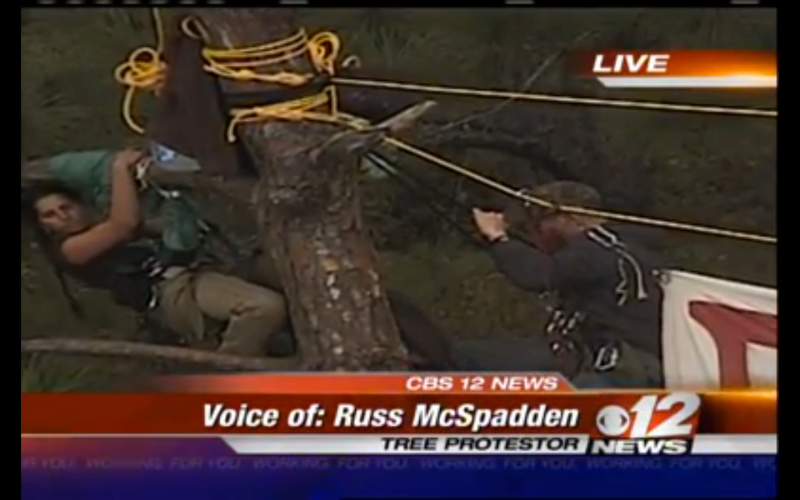 Casting Call for Innovative Variety Show in Downtown Lake Worth!!!
Casting Call for Innovative Variety Show in
Downtown Lake Worth!!!
We are looking for entertainers and artists of all genres to help create this project but to also showcase their talent. If you are interested please contact me and we can arrange a time for you to perform, or if you have any questions about the project please don't hesitate to ask.
If you are interested Please contact 561-503-5743
Location:
129 Federal Highway
Lake Worth, FL 33460
561-503-5743
Two amazing conferences are coming up that will have some excellent speakers AND are affordable.  I'll be live blogging hopefully from both and of them and also will hopefully see you there!
The first is the Feminism and Climate Change conference at Barnard College in NYC on February 27th.  One of my favorite environmental leaders, Majora Carter, will be giving the keynote address.  For Barnard students, the conference is free but for everyone else the suggested price is $50.
The second is the annual Reproductive Justice Conference from April 9-11 at Hampshire College. It will be my first time attending, but friends of mine that have gone in the past say it's an unbelievable experience.
From Common Dreams:
African-American farmers have staged a massive protest in Washington DC calling on the US government to deliver on cash payments promised to the group years ago.

In 1999, black farmers won a landmark case that granted them a billion-dollar compensation settlement on the grounds of racial discrimination by then US authorities.

But now the group says that tens of thousands of African-American farmers have not received the funds that they were promised.

Al Jazeera's John Terrett reports from Washington DC:
Jessica Yee, a special correspondent to the blog Racialious is doing excellent work with her group the Native Youth Sexual Health Network.  Recently they produced a collection of short pieces called "Protecting the Circle, Aboriginal Men Ending Violence Against Women".  Here is what Jessica had to say about it to Racialicious:
Along with the support of our partners, we have produced a short written collection of submitted works by Aboriginal men from across Canada. We would like to acknowledge them for all their remarkable contributions and commitment to ending violence against women, but also of recognizing the full spectrum of gender identity and self determination when violence is committed against all persons.
The whole collection can be seen here in PDF form and below is the first piece in the collection.
Woman – by Walter Woodman
Strength is something all men want
to shed tears or have fears
is something we taunt.
To show force against mothers, sisters, girlfriends
isn't something you do
as REAL men.
To be humble yet strong role model to others
to not only see women as things
but all of them mothers.
For without them where would we be?
no mother earth, no mothers womb
no mother you, mother me.
A woman has given you life as a gift
so respect her, cherish her
so your soul can lift.
A woman is creator
A woman is love
A woman is mother
Mother earth, and the sky above.